As hosts we know where we are at and judging on feedback, we're meeting our guest's expectations and giving them a great experience during their stay in Barcelona. But as guests, we had no luck with our first 2 attempts and did not have good experiences. Until last Friday….. Which I will come to shortly.
I have been in the hospitality industry since I was 15, my first job was as a waiter at a 5* star hotel. I have always found it hard to relax when I am a guest at a hotel. I'm critical, I find fault and in my mind I'm writing a list of what I would do if I were running the place. Although I was never vocal in my criticism.
Being an Airbnb guest nothing much has changed.
Our first trip was to Rome where the apartment looked amazing online and everything was going fine until we were given a Wi-Fi dongle for the internet connection. Not much good for the 'i' devices we had at the time. It was our first trip away without kids and Skyping was needed. It wasn't a major thing, cafes had Wi-Fi so we coped.
Then we discovered Rome was having the coldest weather in 10 years, with snow on its way. Sadly the aircon unit wasn't up to the job of keeping the apartment warm, so we had two nights of fully clothed, double duvet sleeping…how romantic!
The host didn't manage the situation well, but Airbnb (as usual) did and seeing how they looked after guests as well as hosts was good to see.
The second experience, well I won't bother going into details, but put it this way, we left within 10 minutes! Since then we hadn't been Airbnb guests. Not so much due to the not so good experiences as guests, but when you're hosting as much as we do, going away, we really want a break from everything… even Airbnb…
So moving forward to last Friday. We decided to have a Staycation. My Mum was over from the UK for a visit with us and was happy to mind the kids. So we booked a Spa for the Saturday and decided to book an Airbnb place for the Friday and go out and have dinner. Re-living the life before kids.
We booked the most amazing apartment in Gracia to the north of Barcelona city. It was just our style and the host Sean sounded very nice too. Check it out here. https://www.airbnb.com/rooms/959089
So it really was case of 3rd time lucky. Walking into the most beautiful apartment building that you feel you've just stepped back in time, up the single staircase that serves only the apartment we were to stay in.
Meeting Sean, well, what an amazing host and his knowledge of the buildings past was second to none. He showed us around our part of the apartment, which was cleverly separated by 2 glass doors and a hallway from their living area, so you could have the privacy if you wanted.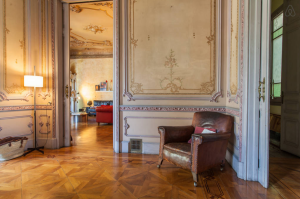 He then took us through and showed us their living area. WOW! It was just incredible. We then got to meet his mother and father and we had a great chat with them about how they came to be living there and the stories that go with the apartment.
You could tell that they loved this place and for them to share it with others is not only a gift for us as guests, but they really want others to experience what a special space they live in, and sharing it gives them a great buzz.
As hosts, well they were just perfect. Small touches that impressed us. Additions like some DVD's of movies that had been filmed in the apartment over the years. Clever use of Space, modern furniture thrown into the mix and decor to give you that I've made it feeling.
Not only have we found our new favorite place to stay, but we've also made some new friends who we can't wait to catch up with again very soon.
We're now plotting our next Airbnb guest adventure for a weekend trip. This time it'll be with kids, so it be a whole new experience. We'll report back with our findings 🙂
Happy Airbnb'ing people,
Phil
---