It was early days with airbnb and we were delighted with the progress we made in just a month. After the wonderful review from Jan we started to get some enquiries and we had one in from a girl called Andrea who was looking for medium-term accommodation.
Although we were interested we thought it may be best to stick to short term but we decided we should meet her and then make up our minds.
When she called at the door it was impossible not to adore her there and then.
You know one of those who ticks all the boxes;
Friendly, engaging, clever, sporty, full of personality and beautiful. That's Andrea. Oh and fluent in Spanish too (very jealous)!
Anyone who knows Barcelona would be aware that nearly all the  locals leave the city for the whole month of August. It gets very hot here so they all head to the coast. Poor Andrea who had arrived from California did not know this and was anxiously looking for accommodation and getting no response, until she contacted us.
Her student budget was less than we were looking for but she was quick to point out that she'd be away allot of the weekends so we could use her room for airbnb, she would help us with Spanish, oh yes and that she'd have no problem in babysitting.
'Babysitting?' Ok no problemo Andrea you can move in now if you like!! Which she did:)
Andrea very quickly became part of the family here. The kids loved her and spent most of the time in 'Andadreas room' (as Jack called her) and I loved her clothes, jewellery, shoes and bags! Wow she had some collection, thanks to her Mum who picked up designer wear for her through her contacts.
Andrea was a fun party girl and why not. She was 21 at the time in wonderful Barcelona and knew how to enjoy herself. She and her friends became VIP's with Happy Nation where you have to dress up, look fabulous and attend the events going on around the city. In return you get free food (Andrea's dinner's) and drinks not to mention a great night out. In fairness to her she studied too when she had a moment from her busy social life here. Good woman I say!
We then had the pleasure of her parents to stay before they set off for various trips around Spain.
May I present Ray and Rebecca,
As our American friends say a seriously 'awesome' couple. The perfect family – Ray had his own law practice and Rebecca had her own interior design business. The conversations flowed and I think we did sort out the world problems one night! Plenty of laughs and not to mention the most delicious dinner prepared and cooked by them coordinated by Rebecca and Rays excellent choice of red wine.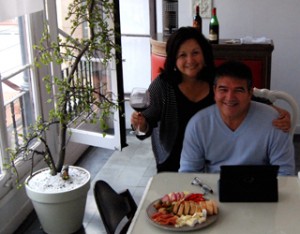 Whilst they were here Phil was painting the living room an Edwardian green. Due to the size of the room we thought the color would work but unfortunately there was not enough light coming in. Phil panicked with head in hands but Rebecca stepped in and saved the day! She advised us to just paint two of the walls a lighter shade and the light would bounce from them and brighten the whole room. The great thing here is that you don't even notice that there are two shades.  Thanks Rebecca!
We had so many memorable wonderful times with them all and hope to get to California at some stage over the next few years to pick up where we left off. We want to bring the kids to DisneyLand but more importantly catch up with our dear friends.
Andrea, Ray and Rebecca you are welcome back in our home at any time, thanks again xx
Fiona
---