We were asked if we would like to attend a meeting at Airbnb Barcelona. Sure, no problem, we've done them before and it is always great to chat to the Barcelona team. Then we read the email in full. Brian Chesky, the Co-Founder and CEO of Airbnb was going to be in Barcelona for the meeting! This was very exciting indeed!
So, here's the back ground. Every 2 weeks Airbnb have a team meeting from the mother ship in San Francisco. All their offices around the world tune in across the inter-web and have their meeting in real-time.
As they are now an international company they decided it would be good to have the meeting every few months from a new location and for the first one they choose a city which is particularly successful for them…Barcelona.
After the initial excitement, followed the fear. I mean who likes public speaking, let alone in front of  Airbnb staff from all over the world, and then the 2 cameras who are streaming this across the globe to appear on people's screens….arghhhh, no pressure then!
First things first. I have never seen so many happy staff in one place. Honestly all of the guys and gals love working at Airbnb, you get a real sense that they are very happy being part of a company that is so significant in this new 'sharing economy'  phenomenon and of course one of the coolest companies to work for.
The meeting was led by Brian, who oozed charisma and wasn't phased at all. This put even more fear in me and the panic attack started as I waited on the side lines. But then listening to this guy who started it all from a humble idea and now standing in front of the team he and his 2 friends had built, was mind blowing and very inspirational.
This theme continued with every one that spoke.
They are all passionate about how to make the connection between guest and host a better one, how they can understand the locality, neighbourhoods and the places hosts have listed. Of course there is a business behind Airbnb, but at the front is a drive to build experiences, to show the world that staying with a stranger in their home is not quite as weird as you may think. They want to see friendships formed and open up the traveling world to a new way of hospitality which has proven to us all that simply it works.
I was there with 2 other sets of hosts. There was Pau and his wife Clara who have the most amazing house here in Barcelona. It is perfect for that special family occasion or corporate event, and there was also the lovely Rosa, who's story is just so touching and signifies just what Airbnb are about. We'll be doing a blog post on their stories at a later date.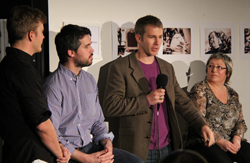 I then had a few moments to speak about this blog and how and why we started it.
Ourbnb's proudest moment!
We then got to meet Brian who was very nice and easy to speak to. This in itself is such an achievement for us, this famous incredibly successful guy who was on the front of Forbes last month was chatting to us like a guy we knew for years. We let him know about a couple of small things we'd like to see change and he was genuinely interested in our feedback and took a few notes.
After we had a couple of beers with the team and chatted to a few more Airbnb folk we were told the staff were heading off to celebrate the successes of the meeting and we were asked if we'd like to join them…. Erm…… yes please.
It was there that we got a confirmed reservation through and one of the problems with the Airbnb iPhone App occurred and we asked Brian if he had a minute so that we could show him in real time what was happening. He took notes of this and said it should be fixed soon and was really keen to see how the app worked from a host side of things…. with a very busy calendar! Again, a very proud ourbnb moment.
He spend a while listening to our views, our suggestions and passing us compliments on the blog and the forum. He saw that we had filled a hole and was genuinely delighted about our success.
All in all it was one of the best nights for us and a great feeling to know that Airbnb are there to support and listen to us as hosts.
We were privy to a few new things that are coming up with Airbnb and really looking forward to them being implemented.
Onwards and upwards my friends.
Thanks a million Airbnb for having us down and including us in your first 'outta HQ' meeting.
Happy Airbnb'ing folks……
Phil
---