During the early days of our airbnb journey we received an email from a guy called Seng saying that he was coming to Barcelona with his friend called Happy. Well, that was it for me they were staying! We had to have a guy named 'Happy' stay with us.
The dates suited perfectly and we sent through a pre-approval and they went ahead and booked our twin room. They arrived a few weeks later and well you could not meet two nicer Aussies. The kids thought it was so cool having a guy called Happy come stay with us. We all got on great, like one big happy family. They were only here  a few hours when they asked could they extend their stay. They were due to go to Madrid for a few days, but felt so 'happy' here that they didn't want to go and wanted to stay in Barcelona.
So their stay went from four nights to six
And every one of them was great fun.
Towards the end of their stay they asked if they could come down to the flea market (Mercat Del Encants) with us. Of course this was no problem at all, as you'll see from our posts we're hooked on the place. The guys were on a mission that day though, they had tickets for the famous White Sensation that night – one of the biggest electronic events in Europe. There is a strict policy for entry though – you must be dressed in entirely white.
So we all headed down and the guys managed to find white trousers and white tops for the party that night. Not a problem as you can find everything in this place. For our home, I had spotted a mirror that I was keen on getting, Fiona on the other hand wasn't sure. Seng and myself went over and started haggling with the guy and got him down from an extortionate price to something more in our price line.
I went back to Fiona to give her the good news, and still she wasn't sure. Seng said to Fiona " have you made up your mind yet?" "Emm not yet Seng" she said. "I'll make it up for you then" Seng said and then to our amazement he went over, haggled again and bought it for us! How about that!! So Seng and Happy said they bought it for us as a gift to say thank you for our hospitality.  The bargain price they paid was €20!
Luckily Seng was a gym guy and with the assistance of the kids buggy, we got the mirror home and up the stairs.
It now stands very proudly facing our front door as you come in and every time I see it I think about what a fantastic week we had with the two of them. Oh and we since believe our fab mirror is infact worth a lot more than €20.00. Happy Days:)
Happy and Seng, you're both welcome back at any time……
Phil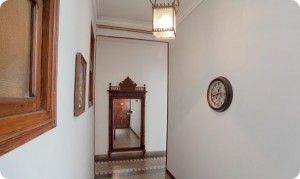 ---